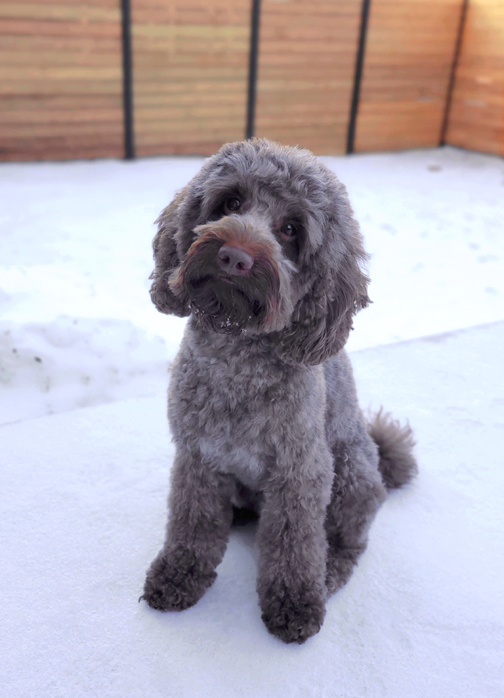 Owned by
Bluevale Meadows Australian Labradoodles
Colour: Chocolate Cafe
Birth Date: Dec, 18th, 2018
ALCA Registration: 295-12182018-005-D, CA1
WALA Reg#: WALA00045859
Weight: 20lbs
Height: 18.25"
Clear on the following : DM, PRA-PRCD, CERF, IC, EIC, vWD1, Hyperuricosuria, OFA-HIP & Elbow,
OFA Heart & Patellas


Jack is the sweetest little guy! Comes to us from a breeder in Nova Scotia, Canada, but born on PEI. He is a true small ALD, but not in personality! (Classified as a large mini) He loves his guardian family and they are so over the moon in love with him. Almost from day one of arriving, Mr. Jack had the opportunity to begin visiting a local Retirment home where he gets ALL the love and attention he can handle. For such a spunky little pup, he seemed to just have that instinct to be ever so gentle with the elderly. His guardians and soon to be owners wish him to continue as one of our main studs here at Bluevale Meadows. Which we are simply thrilled about. We found the very best when we found Jack's guardians! They are like extended family and we look forward to continuing to work with them here at BVM. Jack has produced some lovely puppies in the smaller "mini" sizes. Chocolates, apricots, creams, caramels, blacks and parti's. Coats for many take after him with his lovely loose curly fleece. With the occasional wool. We have some exciting litters planned with this guy in the future, ...... stay tuned!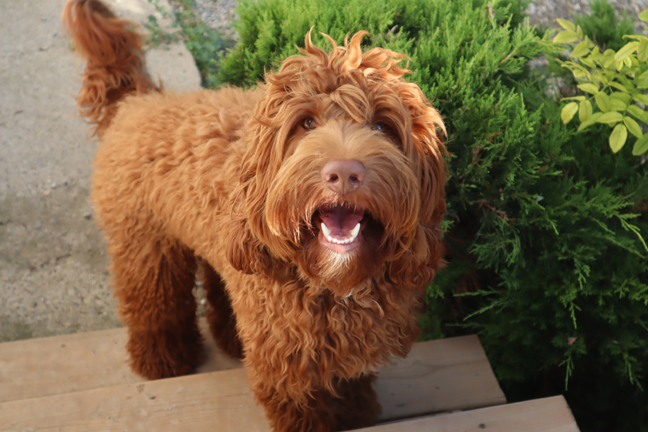 Owned by
Bluevale Meadows Australian Labradoodles
Colour: Red with white patches
Birth Date: September 24th, 2020
09242020-00
Weight: 39lbs
Height: 20"
Clear on the following : DM, IC, PRA-PRCD,vWD1, HNPK,Hyperuricosuria. OFA-HIP & Elbow,
OFA Heart & Patellas


This guy hails from Labradoodles by Design in Nova Scotia. He has joined our own family here at Bluevale Meadows and is quite the dood. Fitting right in and playing with the girls almost from the moment he arrived.. Mocha claimed him as her new best bud after we lost our big guy in the summer of 2020. He tends to take a back seat to let the girls lead the way and investigate things. He loves his alone playtime with his teddy. As well as his time spent with doodledad. But will just as happily come for snuggles with mum and the girls. His most favorite play is to steal our Lily's frisbee and then play keep away. Just to get her to chase him. Silly boy. With his rich red colouring and good looks, he has produced some truly lovely puppies in all shades apricot & caramel with lovely shaggy to loose curl (fleece) coats. With his own shaggy curls I tend to keep him more in a natural shaggy clip. A simple comb thru and he's done. Though he still isnt so sure on the entire grooming thing - A work in progress, he keeps me on my toes with his mischief.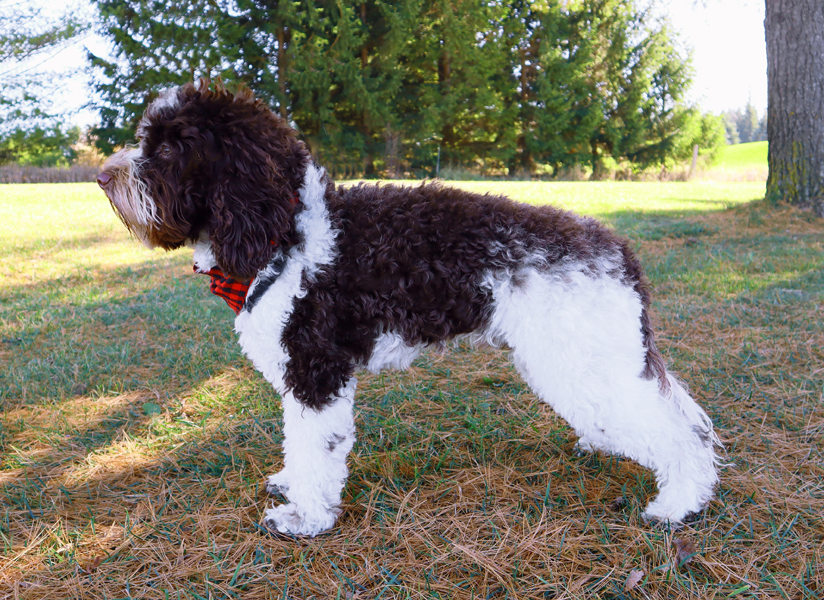 Owned by
Brian & Jeanette Berenz
Colour: Chocolate & White Parti
Birth Date: July 13th, 2021
07132021-00
Weight: 17.5lbs
Height: 17"
Clear on the following: DM, IC, EIC, PRA-PRCD,vWD1, HNPK, Hyperuricosuria
Clear on the following: OFA-HIP & Elbow, Patellas
OFA Heart, Cerf



This little guy is a Mocha & Jack pup from their summer 21' litter of 10! In chatting with his owners, watching him grow and develop into quite the little dood, it was a mutual descision to test and see if he is of breeding quality for future litters of the ALD in "mini". He has passed all the tests with great success. Our hopes are to be very selective in pairing this handsome little fellow with our new gal Sunny for 2023+. Ruff has been Mr. Personality just like his daddy Jack. He enjoys leisurely strolls about the neighborhood with mom, cheering on his favorite sports teams with dad and keeps the squirrel and chipmunk population in the gardens under control with little reminders that he is always standing guard over the property. We look forward to working with Ruff and his owners for future little ALD's in miniture.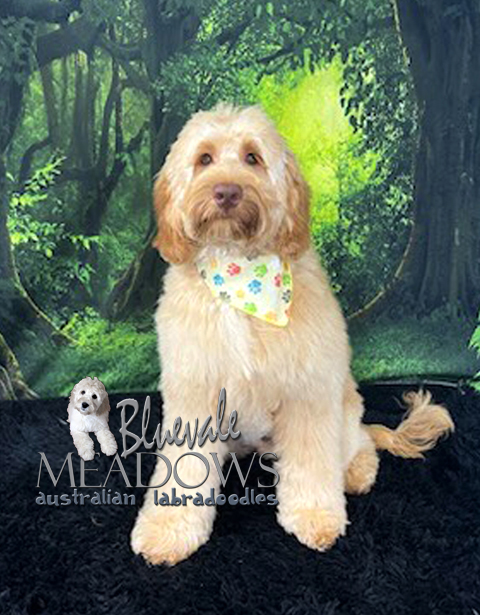 Owned by
Bluevale Meadows
Colour: Caramel Apricot
Birth Date: Jan. 24th, 2023
012423-00
Weight: expected to be 38-40lbs
Height: 19-20"
Clear on the following: DM, IC, EIC, PRA-PRCD,vWD1, HNPK, Hyperuricosuria, OFA-HIP & Elbow, Patellas,
& Cerf
Test pending till of age: OFA Heart



Young Gideon comes to us from the East Coast of Canada through Labradoodles by Design. He is a handsome young guy who we are excited to see develope into a nice medium build. With the possiblility of some small standards in his future lines with our Sunny Gal. Carrying the "apricot" genes, we have hopes of some lovely shades of the full spectrum with him. Gideon has already stolen the hearts of his new guardian family and is showing off his high capacity for learning things quickly. He has a great human focus and will hopefully pass this along to future pups who may be required for service dog work on the larger scale. We look forward to seeing him grow and develop and one day in the distant future, sire some lovely pups for us at BVM ALD's.